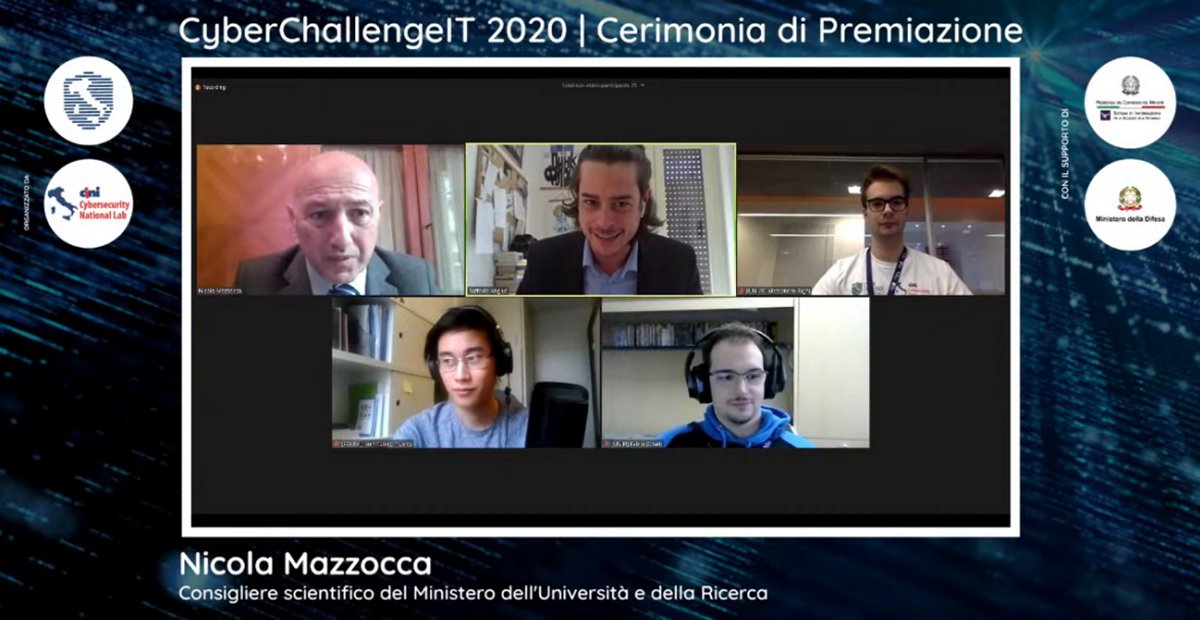 21 Dec

CyberChallengeIT 2020: Italian ethical hackers rewarded

During a heartfelt online ceremony that saw record attendance in the history of theNational Cybersecurity Laboratory, the scientific advisor to the Minister for Universities and Research, Nicola Mazzocca, awarded the winners of CyberChallenge.IT: the Italian training programme for young cybersecurity talents, organised by Cini's (National Interuniversity Consortium for Information Technology) National Cybersecurity Laboratory. Now in its fourth year, the competition is the final event of the training and development of specialist skills linked to the world of cybersecurity, which involved 560 students, aged between 16 and 23, from January to May.

The winning teams in the October competition were from the University of Verona, the Milan Polytechnic and the University of Pisa, which took third, second and first place respectively.

The final CyberChallenge.IT competition, which took place in October this year, was the culmination of a course that lasted throughout the spring and during whichover 560 young people from 28 different locations (26 universities, the Tuscan Cybersecurity Competence Centre and the Comando per la Formazione e Scuola di Applicazione dell'Esercito in Turin) honed their skills in the field of cybersecurity. The courses focused on aspects such as cryptography, security of networks and hardware and software infrastructures.

"The competition is the end point of an activity that I think is even more interesting, as it is able to involve so many young people in such an innovative project, in a sector that is so much needed for the development of our country and that is aimed at both businesses and the public administration," commented Mazzocca, who brought greetings from the Minister for Universities and Research, Gaetano Manfredi.

During the ceremony, the three award-winning teams gave presentations related to the world of cybersecurity, in front of an audience of institutions, communication experts and representatives from each of the Platinum sponsoring companies that, together with the Gold and Silver sponsors, make the event possible each year (Platinum: Accenture, Aizoon, Blu5 Group, Eni, Exprivia, IBM, KPMG, Leonardo, Ntt Data, Numera, Telsy; Gold: BIP, Cisco, Banca Monte dei Paschi di Siena, NEGG, Novanext, PwC; Silver: Digi-One, ICT Cyber Consulting).

But the day was also an opportunity for the National Cybersecurity Laboratory to launch Olicyber, a new project that will see, by 2021, the organisation of the first cybersecurity Olympics in Italy. "Our aim has always been to educate and invest in inclusion in the topics we deal with," commented Paolo Prinetto, director of the Laboratory. "We decided to set up Olicyber to be even more present in schools and to give young girls and boys in high schools the opportunity to imagine for themselves an opportunity in the world of cybersecurity.